5 Vegetables That Make Amazing Fries (Besides Potatoes)
French fries are one of the ultimate comfort foods, and while there's no denying how satisfying a salty serving of fried potatoes can be, enjoying a serving of fries doesn't have to be a guilty pleasure. It's easy to make healthier fries at home, and branching out from your usual spuds is a great way to up the nutritional value and slash calories while still enjoying the comfort food favorite. Steer clear of your local drive-through window and bake a big batch of one of these nutritious veggie French fries that everyone will flip for.
1. Roasted Carrot Fries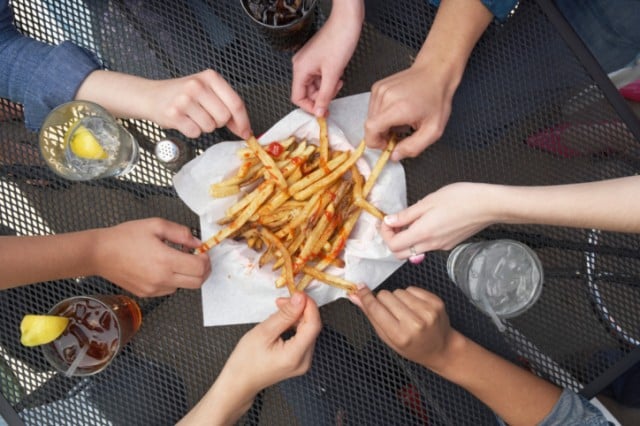 Ingredients:
1 pound fresh carrots, cup into ½-inch sticks
2 teaspoons olive oil
½ teaspoon salt
Directions:
Place carrots in a greased 15 by 10 by 1-inch baking pan. Drizzle with oil and sprinkle with salt; toss to coat. Bake, uncovered, at 450 degree for 10 to 12 minutes or until crisp-tender.
2. Baked Sweet Potato Fries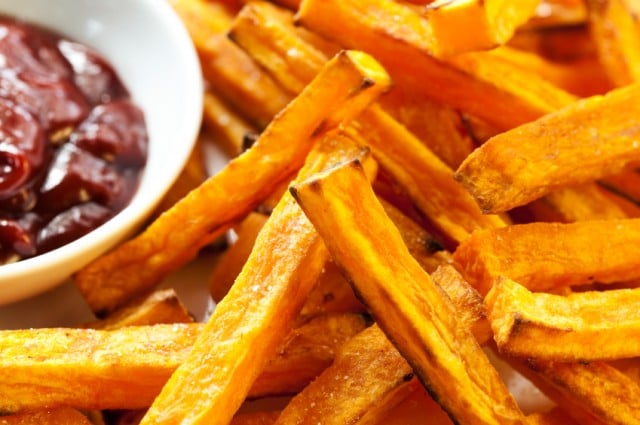 Ingredients:
Sweet potatoes – at least one per guest
Corn starch. A big sprinkle's worth (optional)
Olive oil to evenly coat the fries – a few teaspoons
Salt, pepper and spices
Directions: Preheat the oven to 425 degrees Fahrenheit. Peel the sweet potatoes and cut them into fry-shaped pieces. Try to cut them into similarly sized pieces so the fries will bake evenly. Toss the uncooked fries into a mixing bowl or a plastic bag, or just onto your baking sheet. Sprinkle with cornstarch (if using) and pour in a few tablespoons of olive oil, enough to lightly coat the fries. Season with salt, pepper, and spices. About one-half a teaspoon per potato or so. Mix or shake to distribute evenly.
Pour the fries directly onto a non-stick baking sheet for best results. Arrange your fries in a single layer and don't overcrowd, otherwise they will never crisp up. Bake for 15 minutes, then flip the fries so they can cook on all sides. Bake for 10 to 15 more minutes, or until the fries are crispy. You'll know they're done when the surface of the fries change from shiny orange to a more matte, puffed up texture. Don't worry if the edges are a little bit brown; they will taste more caramelized than burnt.
3. Baked Parsnip Fries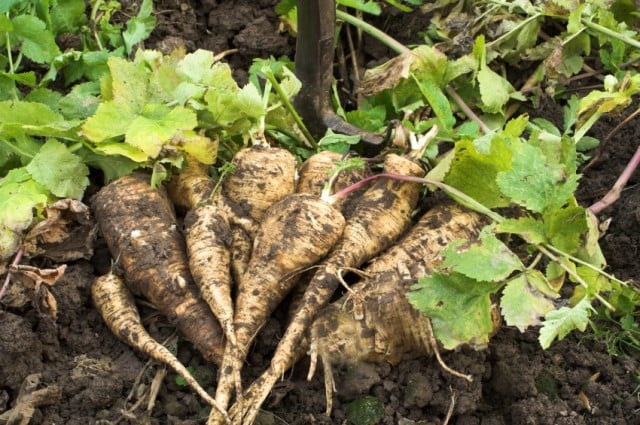 Ingredients:
Parsnips
Salt
Olive Oil
Ketchup/Mustard
Directions: Preheat your oven to 375 degrees Fahrenheit. Scrub your parsnips clean and lightly peel them. Slice into thin strips. Toss with a drizzle of olive oil and a few good pinches of salt. Bake until golden brown, flipping halfway. Remove from oven and serve immediately, they're best hot.
4. Baked Parmesan Green Bean Fries
Ingredients:
1 (14 ounce) bag of frozen whole green beans (or about 4 cups fresh)
¼ cup Parmesan cheese, grated
½ teaspoon Garlic powder
¼ teaspoon Salt (or to taste)
? teaspoon Pepper (or to taste)
Directions: Preheat oven to 425 degrees Fahrenheit. Line a baking sheet with foil, and spray with non-stick cooking spray. If using frozen green beans, pop the bag of green beans in the microwave for 3 to 4 minutes, or until just thawed. If using fresh green beans, wash and snip off the ends. Place green beans on prepared baking pan, making sure they are evenly spread out, and none are laying on top of each other. Sprinkle seasonings and parmesan cheese evenly over green beans. Place green beans in the pre-heated oven and bake for 10 to 15 minutes, or until golden brown and crispy!  Enjoy immediately with low sugar ketchup or dipping sauce of choice.
5. Zucchini Fries
Ingredients:
2 zucchini
1 egg white
½ cup shredded Parmesan cheese
½ cup seasoned breadcrumbs
Vegetable cooking spray
Directions: Preheat oven to 425 degrees Fahrenheit. Cut zucchini into 3-inch sticks. Whisk an egg white in a small bowl, and add milk. Combine Parmesan and seasoned breadcrumbs in a separate bowl. Dip zucchini sticks into egg mixture, and then roll in breadcrumb mixture. Coat a baking sheet with cooking spray, and place zucchini on sheet. Bake for 25 to 30 minutes or until golden brown.

Sources:

Adapted via