7 Summer Slow-Cooker Recipes
So you can spend less time in the kitchen and more time at the pool…
1. Mac and Cheese With Bacon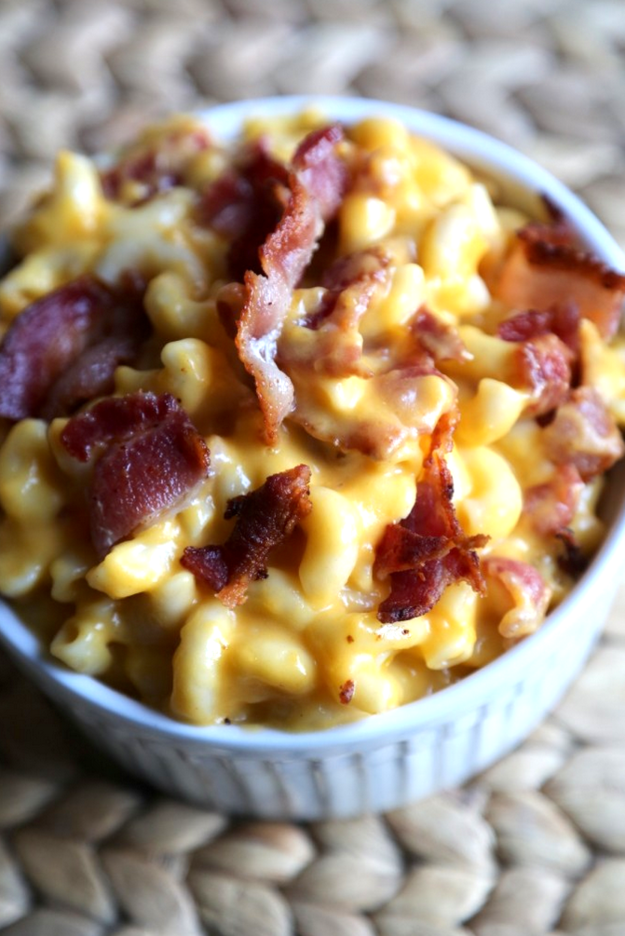 Ingredients:
3 cups elbow macaroni
4 strips bacon
3 tbsp butter
2½ cups shredded cheddar cheese
1 can cheddar cheese soup
1 cup milk
salt and pepper
Directions:
Coat crock pot in non-stick spray
Combine all ingredients in the crock pot and stir together
Cover and cook on low for 2 hours, stir every half hour to evenly distribute the cheese
2. Guinness Pulled Pork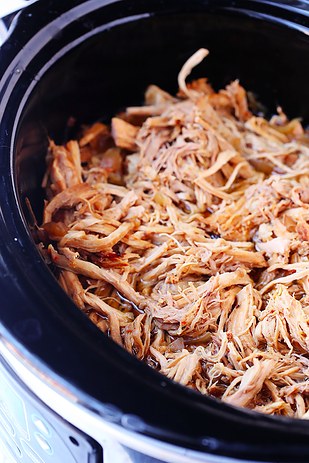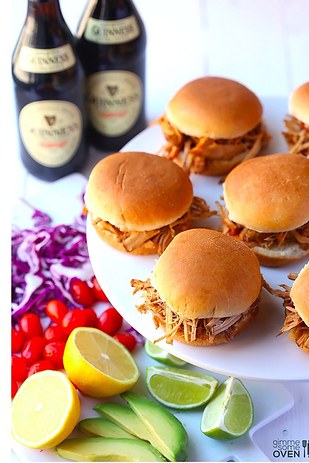 Try it piled into sliders or tacos, on top of salads, or on its own.
Ingredients:
1 Tbsp. smoked paprika
2 tsp. salt
1 tsp. crushed red pepper
1/2 tsp. garlic powder
1/2 tsp. freshly-cracked black pepper
4 lb. boneless pork butt or shoulder or loin
1 large white onion, thinly sliced
1 (11.2) bottle Guinness extra-stout beer
Directions:
In a small bowl, whisk together paprika, salt, crushed red pepper, garlic powder, and black pepper until combined. Rub the mixture all over the surface of the pork until covered.
Spread out the sliced onions over the bottom of the slow cooker. Then place the pork on top. And then pour the beer on top.
Cover and cook on low for 10-12 hours, or until the pork literally falls apart on your pork. Serve on sliders, tacos, salads, or however you would like!
Store in an airtight container in the refrigerator for up to four days, or freeze.
3. Jalapeño Popper Taquitos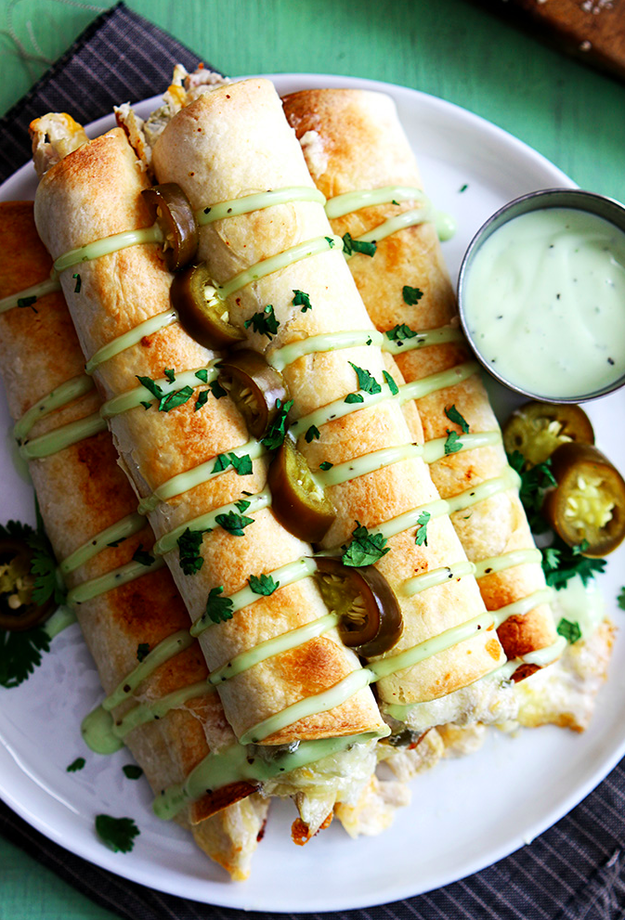 Ingredients:
3-4 chicken breasts, frozen or thawed
8 ounces cream cheese
1 cup jarred whole or sliced jalapeños, roughly chopped (or more, to taste)
1 teaspoon garlic powder
1 teaspoon salt
1 teaspoon cumin
16 taco-sized tortillas
1½ cups shredded cheese (colby jack, monterey jack, Mexican blend, mozzarella – use your favorite!)
Optional toppings: fresh cilantro, additional jalapeños, dipping sauces such as ranch, salsa, green goddess dressing
Directions:
Add chicken, ½ cup water, cream cheese, jalapeños, garlic powder, salt, and cumin to crockpot. Cover and cook on low for 6-8 hours or on high 3-4 hours. (lesser times are for thawed chicken, greater times for frozen chicken)
Minutes before serving, preheat the oven to 425 and grease a baking sheet with cooking spray.
Use two forks to shred chicken and stir it in with the other contents of the crockpot.
Heat tortillas in the microwave for a few seconds to soften them up, this will make them easier to work with. Sprinkle cheese in the middle of each tortilla (just divide the cheese evenly between all of the tortillas).
Top cheese with 2-3 tablespoons of shredded chicken mixture. Roll tortillas tightly into a log-shape taquito.
Place taquitos on baking sheet and spray heavily with cooking spray. Bake 10-15 minutes until cheese is melty and tortillas begin to brown. (For crispier taquitos, switch the oven to broil for 2-3 minutes – watch carefully so they don't burn!)
Serve warm with dipping sauces and toppings if desired.
4. Thai Chicken Soup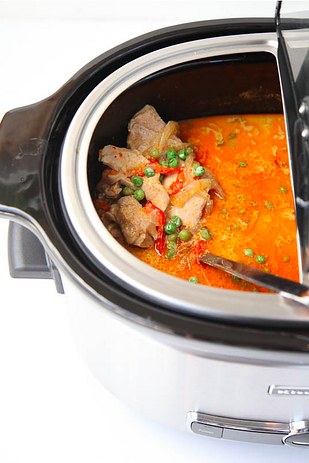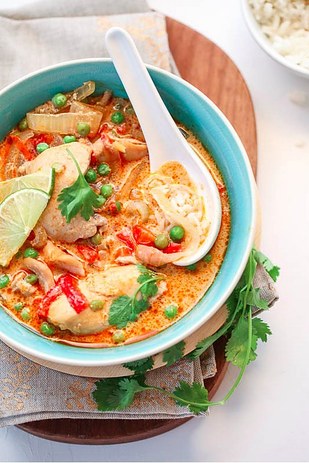 Ingredients:
2 tablespoons red curry paste
2 12 ounce cans of coconut milk
2 cups chicken stock
2 tablespoons fish sauce
2 tablespoons brown sugar
2 tablespoons peanut butter
1½ pounds chicken breasts, cut into 1½ inch pieces
1 red bell pepper, seeded and sliced into ¼ inch slices
1 onion, thinly sliced
1 heaping tablespoon fresh ginger, minced
1 cup frozen peas, thawed
1 tablespoon lime juice
cilantro for garnish
cooked white rice
Directions:
Mix the curry paste, coconut milk, chicken stock, fish sauce, brown sugar and peanut butter in a 4-1/2 to 6-quart slow-cooker bowl.
Place the chicken breast, red bell pepper, onion and ginger in the slow cooker, cover and cook on high for 4 hours.
Add in the peas and cook for ½ hour longer. Stir in lime juice and serve with cilantro and white rice.
5. Big Batch Strawberry Basil Jam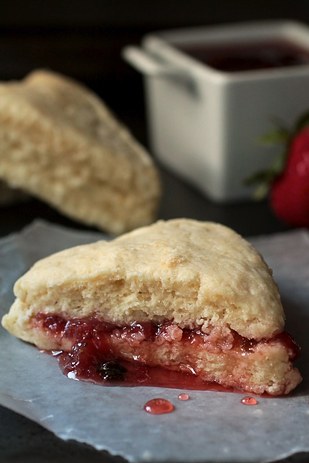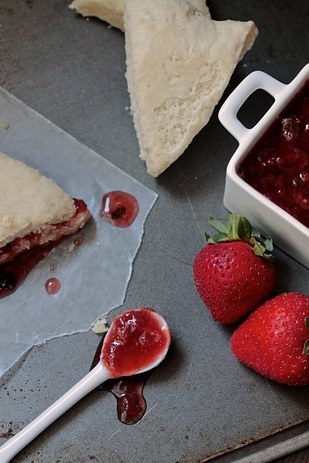 Ingredients:
1 lb. fresh strawberries, hulled and sliced
1 tsp. lemon juice
1 cup sugar
¼ cup fresh basil, chopped
(optional) 2 Tbsp. bourbon or whiskey
Directions:
Put all ingredients into a small slow cooker and give them a stir to combine.
Cook on low for 2 hours.
Remove lid from slow cooker and give jam a stir. If you like your jam a little smoother, mash the strawberries up a bit with a potato masher or a large fork.
Cook jam, uncovered, on low for an additional 2-3 hours or until it has a thick, syrupy consistency. (It will still be a little runny, but that's fine! It will set up more in the fridge).
When jam has thickened, turn the slow cooker off and let the jam cool, uncovered, for at least 30 minutes, or until it has reached room temperature.
When jam has cooled, transfer it to an airtight container and refrigerate for at least 4 hours or overnight. Serve on scones, pancakes, ice cream, or use as a glaze for fish or chicken!
6. Slow Cooker Peach Cobbler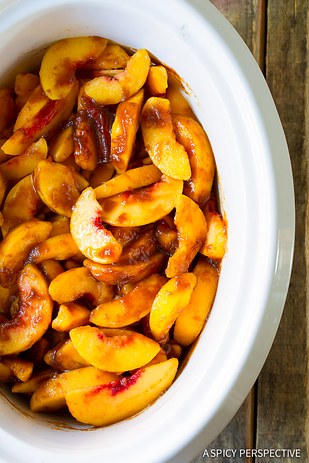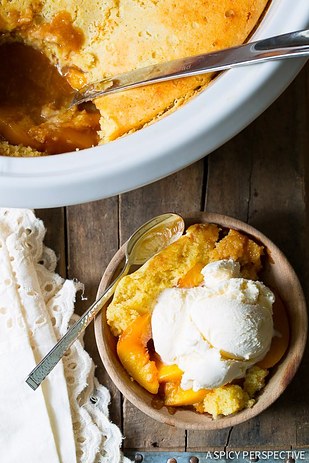 Ingredients:
For the Peach Filling
3 pounds fresh or frozen peaches, sliced
3/4 cup apple butter
1/4 cup bourbon
1/4 cup granulated sugar
1/4 teaspoon salt
For the Cobbler Top
1 1/2 cups all purpose flour
3/4 cup yellow cornmeal
3/4 cup granulated sugar
1 tablespoon baking powder
1 teaspoon salt
1 1/4 cup whole milk
1/2 cup melted unsalted butter (1 stick)
Directions:
Place the peaches, Musselman's Apple Butter, bourbon, sugar, and salt in a large 6 quart slow cooker. Stir to coat. Then spread them out evenly.
For the Cobbler Top: In a large bowl, mix the flour, cornmeal, sugar, baking powder and salt. Whisk in the milk. Then whisk in the melted butter until smooth. Pour the batter over the peaches making sure it coats the entire surface.
Place a long piece of paper towel over the slow cooker and cover with the lid. Pull the paper towel tight so it doesn't sag. (The paper towel absorbs the condensation so the top can crisp.) Cook on high for 4-6 hours or on low for 7-9 hours. Once the middle of the top has puffed up and is golden around the edges, the peach cobbler is ready to serve. Check the center with a toothpick to be sure it's baked through. Spoon the cobbler into bowls and top with fresh whipped cream or ice cream.
7.

Barbacoa Tacos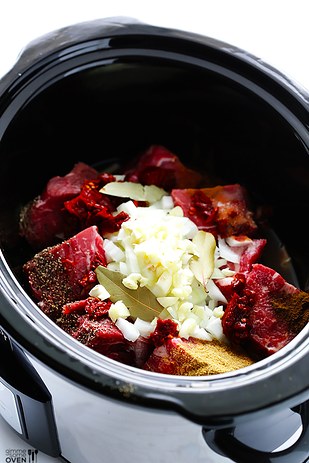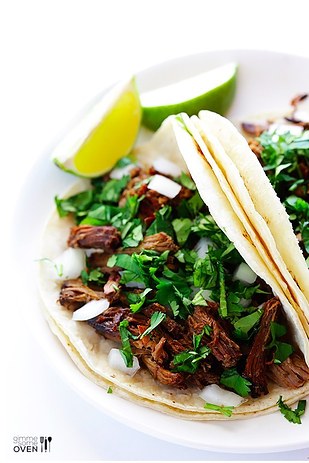 Ingredients:
3 lbs chuck roast (fat trimmed), cut into 2-inch chunks
4 cloves garlic, minced
2 chiptoles in adobo sauce, chopped (or more to taste)
1 (4-ounce) can chopped green chiles
1 small white onion, finely chopped (about 1 cup)
1/4 cup fresh lime juice
2 tablespoons apple cider vinegar
3 bay leaves
1 Tablespoon ground cumin
1 Tablespoon dried Mexican oregano (or regular oregano)
2 teaspoons salt
1 teaspoon black pepper
1/4 tsp ground cloves
1/2 cup beef broth or water
Directions:
Combine all ingredients in the bowl of a slow cooker. Toss gently to combine. Cover and cook on low for 6-8 hours, or on high for 3-4 hours, or until the beef is tender and falls apart easily when shredded with a fork.
Using two forks, shred the beef into bite-sized pieces inside of the slow cooker. Toss the beef with the juices, then cover and let the barbacoa beef soak up the juices for an extra 10 minutes. Remove the bay leaves. Use a pair of tongs or a slotted spoon to serve the barbacoa beef.
If not using immediately, refrigerate the barbacoa beef with its juices in a sealed container for up to 5 days. Or freeze it for up to 3 months.
Article adapted via