3 Oh-So-Easy Oatmeal Recipes
Ask anyone what their favorite breakfast is, and you'll likely get answers ranging from veggie omelets to sugary cinnamon buns. But how many people can say their favorite morning meal is oatmeal? Well, that's all about to change. Not only is oatmeal super healthy (it's packed with belly-filling fiber), but it's also incredibly versatile. Whether you prefer the grains sweet or savory — or packed with protein or healthy fats — we have the right recipe for you. And remember that no matter which flavor combination you choose, one thing is guaranteed: You'll never look at oatmeal the same way again.
Chai Oatmeal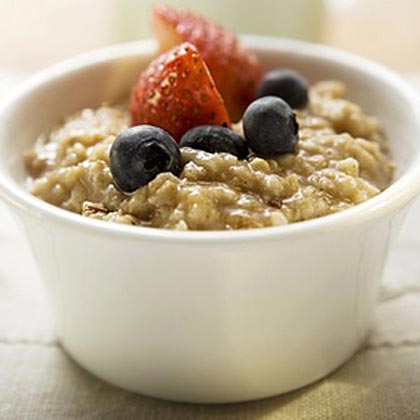 Ingredients:
1 1/2 cups 2% or whole milk
1/4 teaspoon salt
1/4 teaspoon ground coriander
1/4 teaspoon ground cardamom
1/4 teaspoon ground cinnamon
1/4 teaspoon ground turmeric
2 teaspoons honey, plus more to taste
1/8 teaspoon vanilla extract, optional
3/4 cup regular (not quick-cooking) oats
2 tablespoons oat bran, optional
Instructions:
Combine the milk, salt, and spices in a small saucepan, and bring to a simmer over medium heat. Simmer 5 minutes, stirring constantly; add the honey, vanilla (if desired), oats, and bran (if desired), and stir until combined. Cook over medium-low heat, stirring constantly, for 20 to 25 minutes, or until the oatmeal is thick and creamy. Serve hot with additional honey to taste.
Banana-Nut Oatmeal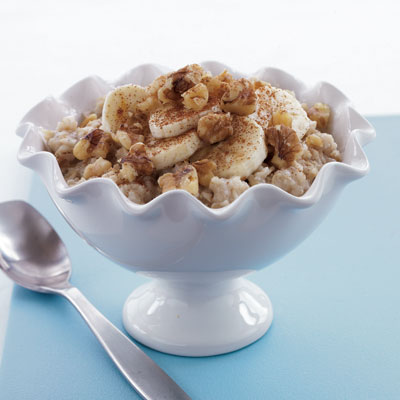 Ingredients:
1/2 cup rolled oats
1 cup water
1 banana, sliced
1 tablespoon chopped walnuts
1 teaspoon cinnamon
Instructions:

1. Combine oats and 1 cup water in a small microwave-safe bowl. Microwave at HIGH 3 minutes.
2. Top with banana slices, walnuts, and cinnamon.
Baked Oatmeal
If you're not a fan of oatmeal because of its texture, try baking it instead! It'll taste like a mix between a chewy snack bar and a creamy bowl of oats.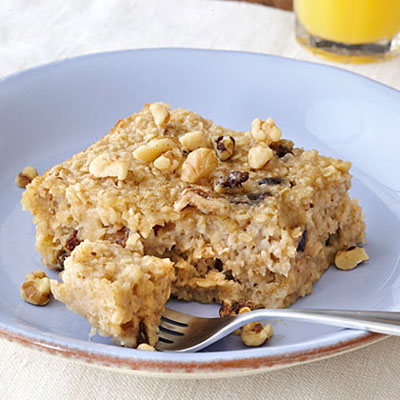 Ingredients:
2 cups uncooked quick-cooking oats
1/2 cup packed brown sugar
1/3 cup raisins
1 tablespoon chopped walnuts
1 teaspoon baking powder
1 1/2 cups fat-free milk
1/2 cup applesauce
2 tablespoons butter, melted
1 large egg, beaten
Cooking spray

Instructions:
1. Preheat oven to 375°.

2. Combine the first 5 ingredients in a medium bowl. Combine the milk, applesauce, butter, and egg.

3. Add milk mixture to oat mixture; stir well. Pour oat mixture into an 8-inch square baking dish coated with cooking spray. Bake at 375° for 20 minutes. Serve warm.

Sources:

Adapted via